Choosing The Right Barrel Horse
Choosing the right horse is one of the biggest aspects in barrel racing. Sure you can train almost any horse to barrel race but the ones who become winners have certain features about them. Barrel horses have to be extremely athletic to be able to run full speed and turn on a dime at 180 degrees without falling, slipping or slowing down to much and they must be able to do that 3 times in a row. The best breed of horse to buy if you want to pursue barrel racing would be a quarter horse or even an appendix horse because they are both very athletic breeds. You have to make sure you are very careful when selecting a barrel horse because you not only have to look at the usual things such as health conditions but you have to make sure your prospect has the following features...
Barrel Horse Features
- Strong Muscles
- Big strong bones
- Gentle, kind eyes
- Laid back personality
- Smart
- Wants to learn
- Works with you
- Speed
Examples of Barrel Prospect & What You Should Look For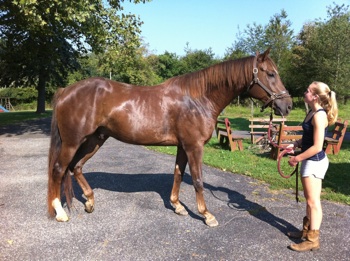 This is an 8 year old, chocolate chestnut, quarter horse barrel prospect that I am currently training, who stands 16.1hh (hh = Hands High, 1 Hand = 4inches). Notice he has big strong solid legs and feet, nice muscle tone and big gentle eyes. Scooter meets all the feature that I mentioned above, he is very smart and wants to learn, he is easy to work with and has the necessary speed to be great. With the right training a horse like scooter will become a champion.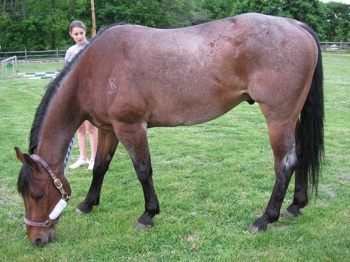 This is a 6 year old, bay roan, quarter horse named Festus who is a finished barrel horse. Although he is already finished, Festus is a great example of what to look for in a horse when selecting your prospect. Festus once again fits into all the features listed above. Just by looking at this picture you can tell he has nice muscle tone, strong feet and legs and gentle eyes. He stand approximately 15.2-15.3 hh (hh = Hands High, 1 Hand = 4inches).
How to Train Your Barrel Horse
Before Your Buy Your Barrel Prospect
Choosing The Right Barrel Horse
After Your Buy your Barrel Prospect & How to Plan Your Training