Seasoning Your Barrel Horse
The term "a seasoned horse" is used to describe a horse who has been competing for many years or seasons of an event. When your trying to season your horse for barrel racing, taking him/her to as many different shows as you can is the best way to get a well rounded horse. If your horse is used to competing under different types of conditions you will most likely be able to make consistent runs.
What you do not want to do is over run your horse. By that I mean do not compete at to many back to back shows. A competition once a week should be just fine for most horses. Just make sure your horse is allowed a day of light or no riding where he can just relax. The best relax days would be the day after a show because after a long day at a show your horse is in need of some down time.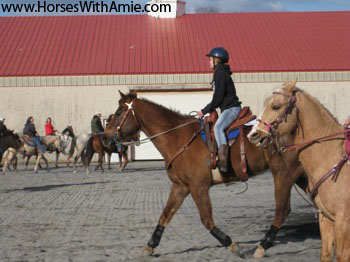 Just remember to keep it fun for you and your horse.
Before Your Buy Your Barrel Prospect
Choosing The Right Barrel Horse
After Your Buy your Barrel Prospect & How to Plan Your Training
Seasoning