Horse Floater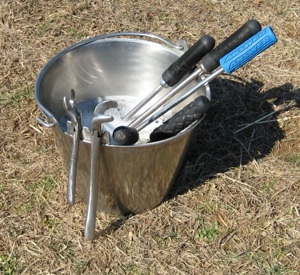 Horse Floating Tools
Horses need to see a dentist too. This trade is called "Floating". A horse floater will file down the edges of a horses teeth. He can also tell how old your horse is by looking at his teeth.
Get a horses teeth done every spring, summer and fall until age 5, then it is, for every year, one month. For example if they are 16 years old, you get their teeth done every 16 months.
You have to makes sure the person doing it does not open up the horses mouth too wide, or it may fracture the lower jaw bone, making it hard for the horse to eat from that point on. This can retire a good race horse.
Find someone who can relate to your horse by communicating with the animal. Someone who can get it done without the use of drugs. A hand file and a good "old school" floater is best. There are stories of people getting their horse's teeth done and the horse never being right again, because it messed up their lower jaw. Ask your horse dentist (floater) how may years he has been in practice, not how many degrees he has, but how much experience he has with horses teeth, and if he has what it takes to calm a horse with words, rather than drugs. Because someone went to vet school, does not necessarily mean they will know how to float your horse's teeth. See a video of a horse getting his teeth floated.
Before a floater starts to file the horses teeth they need to get them used to being touched around their face. When the floater came out to do Jack and Jazzmine's teeth he first talked to them and rubbed the top of there heads and played with their ears. after talking and massaging the floater then put on a halter like device that opens the horses mouth about 2 inches. They will then feel and file the teeth down to the correct size.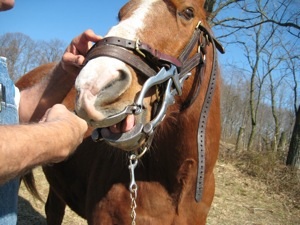 Jack Getting his teeth floated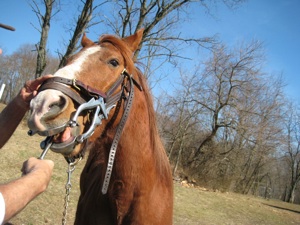 A horses mouth shouldn't be opened any wider then this or it may fracture their bottom jaw.
_______________________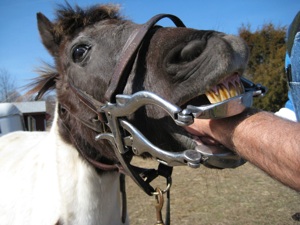 The horse floater is feeling the teeth to see how sharp they are.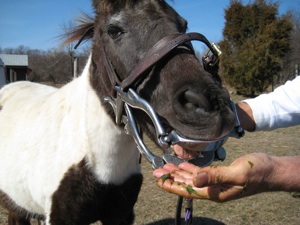 Yuck! Jazzmine what have you been eating!?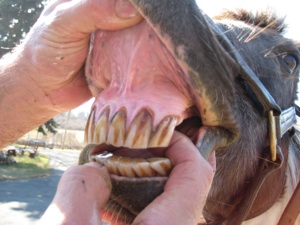 Now the floater looks at the front of Jazzmines teeth.