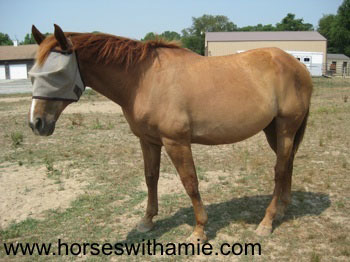 A fly mask is used to keep flies and other bugs away from the eyes and ears of a horse or pony. It is made of a mesh material so the animal can still see through it and so air circulates. Some masks will only cover the eyes where as you can buy some that cover the ears and go down to the nose as well. They normally have velcro straps under the chin of the horse that can be adjusted slightly for sizing. Fly masks can be bought in a variety of sizes ranging from small ponies or foals to large draft horses like Clydesdales.
I recommend using a fly mask if there are a large amount of bugs in your area or if you are hauling your horse in a trailer. Inside a trailer, debris and other dust particles like hay can fly around and get into the horses eyes. This can sometimes cause minor to serious injuries to the eyes. Although most of the time the horse or pony is fine, fly masks will help protect and prevent injury to a horses eyes.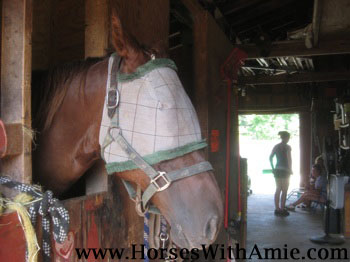 This is Snickers a Quarter Horse, Gelding. Notice that his fly mask only covers his eyes and is being worn under his halter.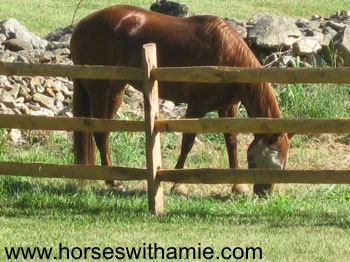 My old horse Zoey grazing. Fly masks are safe to have on your horse in their field.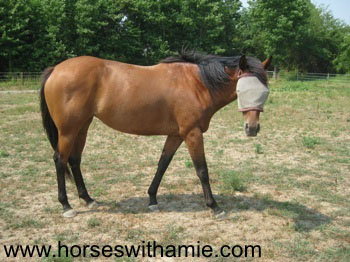 This Thoroughbred mare is named Poly.
Back to Tack and Supplies List