Getting your first horse or pony
Picture(s) needed
Please do NOT send pictures out of books, magazines, or off other web sites unless you own the rights to the photo.

Tennessee Walking Horse
Southern Plantation Walking Horse
Tennessee Pacer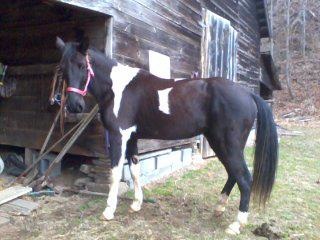 Sierra, a mare Tennessee Walker, is being started on barrels.
History
The Tennessee Walking Horse traces back to the Narragansett Pacer and, just like the Saddlebred and Missouri Fox Trotter, it was developed as an exceptionally comfortable riding horse with gaits not found in other breeds. This Breed was originally known as the Southern Plantation Walking Horse or Tennessee Pacer. It was an invaluable way of transport for planters carrying out crop inspections, being fast, robust, comfortable under the saddle and having a most tractable temperament. Black Allan was the foundation sire, who arrived to Tennessee in 1903. Black Allan's sire came a line of Standardbred trotters, while his dam was a Morgan. Crossed with the Tennessee Pacer of the time, Black Allan produces the forerunners of the modern Walking Horse. Saddlebred blood was introduced and was the most important influence being that of Giovanni, who in 1914 was brought from Kentucky to stand at stud in Tennessee. Breeders succeeded in producing a better quality, more refined, animal by adding Saddlebred blood. Today's Walking Horse, which can be described as more powerful version of a Saddlebred, is therefore an amalgam of Thoroughbred, Standardbred, Morgan and Saddlebred blood. The Tennessee Walking Horse Breeders' Association was founded in Lewisburg, Tennessee, in 1935. In 1947 the Walking Horse was finally recognized as a breed. Walking horses are popular in the show ring and are fine all-round riding horses. Their kind nature makes them great for novice riders.
Conformation
Intelligent but rather plain head; strong, arched neck; well-sloped shoulders; powerful body with bread chest; strong hindquarters; clean, hard limbs.
Height

Average height 15.2hh

(hh= Hands High, one hand is 4 inches)

Color
Any color, with black and solid color being most popular.