Barrel Racing
Barrel racing is one of the biggest sports in rodeo and one of the most thrilling to watch. It came about when women wanted an event that they could call their own over the guys. The men had bull riding, bronc riding, team roping, steer wrestling, calf roping, etc,. What did the women have at the time? They had the bleachers in the spectator section. When barrel racing was dubbed a sport the women would take their husbands roping horses and see who could run around the cans faster. There was no training put into the horses, they just went and ran.
Now-a-days there is a lot of precise training before you enter the competition sector. There are also some organizations, such as the NBHA (National Barrel Horse Association), that allow men to barrel race as well. Real rodeos only allow women to participate in barrel racing still but the NBHA is the biggest barrel racing organization in the world and it keeps on growing as the love of barrel racing grow through each generation.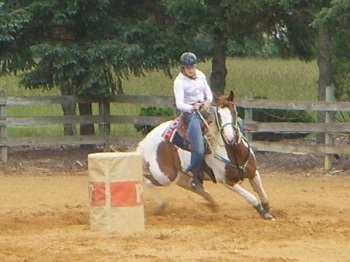 Barrel racing is a competitive sport that not only challenges the skill and cooperation, but also the bond between horse and rider. There are three barrels set up in a triangle form. The horse and rider must the complete the clover pattern as fast as possible, while trying not to hit a barrel. Knocking a barrel can resolute in disqualification or getting seconds added to your time.
One of the greatest barrel racer of all time is Charmayne James. She is the all time leading money earner in barrel racing. Charmayne was announced the first million dollar cowgirl in 1990. She has won 11 consecutive profetional rodeo championships. First WPRA member to earn #1 back number, 1987 and first WPRA member listed in Guinness Book of World Records, 1987&92. She is the holder of the WPRA Record for most NFR qualifications, 19 (consecutive). Making her the best female althet in all profetional sports is the fact that she is holder of more world championships than any other woman in professional sports!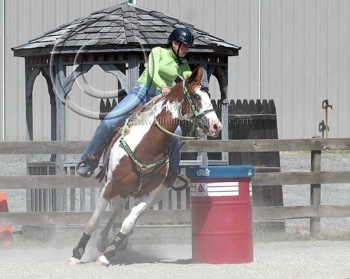 Brianna and her Paint horse Santana Barrel Racing.
___________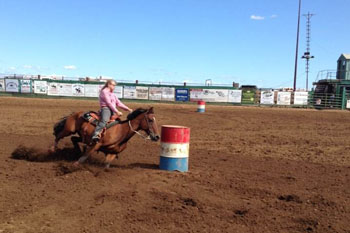 Jessie riding, Ricky, her bay quarter horse.