Getting your first horse or pony
Picture(s) needed
Please do NOT send pictures out of books, magazines, or off other web sites unless you own the rights to the photo.

Racking Horse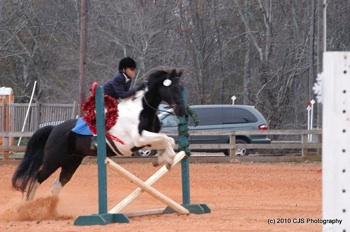 A Racking horse show jumping.
"He is my trainers and that was our 2nd horse show :)"
History
Bred for good disposition, intelligence and versatility the Racking horse developed from bloodlines of the Tennessee Walking Horse. They were derived on the southern plantations before the Civil War. The Rack that the Racking horse has is a bi-lateral four beat gait is not a pace or a trot. There unique gait, often called single-foot, only has one foot hitting the ground at a time. This gait can be achieved by other breeds through special training but for the Racking horse it comes naturally. They can be shod with or without pads and will still perform the single-foot effortlessly and can be shown under saddle, in hand or in harness. In 1971 the USDA recognized the Racking Horse Breeders' Association of America, allowing a registry to be established to perpetuate the Racking Horse breed and the Racking horse became Alabama's State Horse in 1975.
Conformation
The Racking horse has a long sloping neck, full flanks, and is well boned, with smooth legs, and finely textured hair.
Height

15.2hh Average

(hh= Hands High, one hand is 4 inches)

Color
black, bay, sorrel, chestnut, brown, gray, yellow, cremello, buckskin, dun, palomino, roan, champagne, and even spotted.