Getting your first horse or pony
Rodeos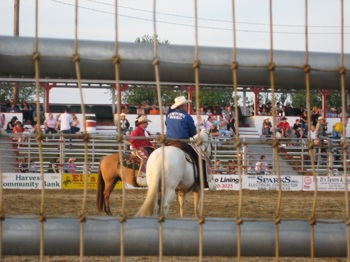 The sport "rodeo" started out of the working practices of cattle herding in spain, Mexico and later the United States, SouthAmerica, Canada and Australia. Based on the skills required of the working vaqueros and later, cowboys, in what today is the western United States, western Canada, and northern Mexico. Today it is a sporting event that involves horses and other livestock, designed to test the skill and speed of the human cowboy and cowgirl athletes who participate. Professional rodeos generally have the following events: tie-down roping, team roping, steer wrestling, saddle bronc riding, bareback bronc riding, bull riding and barrel racing. They are divided into two categories, the rough stock events and the timed events. Depending on the organization and region, other events such as breakaway roping, goat tying, or pole bending may also be a part of some rodeos.
Rodeo, mainly popular today within the Canadian province of Alberta and throughout the western United States, is the official state sport of Wyoming and Texas, and the iconic silhouette image of a Bucking Horse and Rider is a federal and state registered trademark of the State of Wyoming. The Legislature of Alberta has considered making rodeo the official sport of that province, however, enabling legislation has yet to be passed.
In North America, professional rodeos are governed and sanctioned by the Professional Rodeo Cowboys Association (PRCA) and Women's Professional Rodeo Association (WPRA), while other associations govern children's, high school, collegiate, and senior rodeos. The traditional season for rodeo runs from spring to fall. July 4th weekend is the traditional peak time for pro rodeos. The modern pro rodeo circuit runs longer and concludes with the PRCA Wrangler National Rodeo Finals (NFR).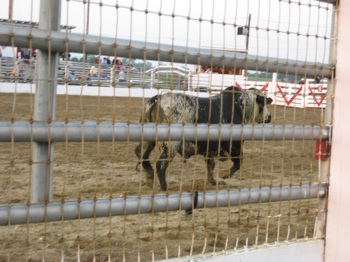 Rodeo has provoked opposition from animal rights and animal welfare advocates, who argue that various competitions are animal cruelty. The American rodeo industry has made progress in improving the welfare of rodeo animals, with specific requirements for veterinary care and other regulations that protect rodeo animals. However rodeo is opposed by a number of animal welfare organizations in the United States and Canada. Some local and state governments in North America have banned or restricted rodeo or certain rodeo events, or some types of equipment. Rodeo is banned in the United Kingdom and Netherlands and other European nations have places restrictions on certain practices.
Western | Riding Styles | Rodeo Events