Getting your first horse or pony
Guinea Fowl
The Guinea fowl is a type of bird that eats all different types of bugs, pelets, seeds, and clovers. Baby Guineas are called Keets. Females are called Guinea Hens. The males are called a Guinea Cock. These birds make a high pitched skweal. When they are thretten or feel like there in danger they make this sound and come together to make them look biger as they move away together. The fox is a big fan of the Guinea Fowl, they like to eat them. If you have Guinea Fowl or are planning on getting them you should get some kind of flock gardian dog such as the Great Pyrenees to keep the fox away. Also, you should have the dogs in a seperate fence that serounds most of the border that you are going to have the guinea fowl. Otherwise your dogs might try to play with the birds and may end up killing or severly hurting them.
_______________________

These are what Guinea Fowl look like.
_______________________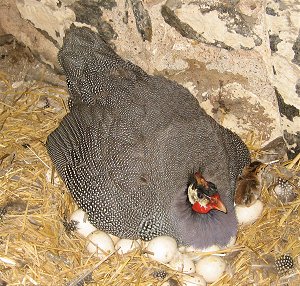 This is a picture os a mom guinea and her keet.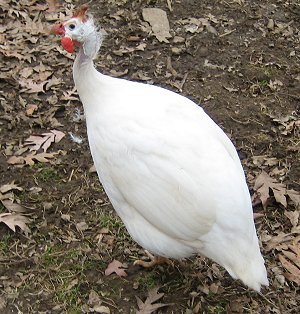 An all white Guinea.
_______________________