Getting your first horse or pony
Picture(s) needed
Please do NOT send pictures out of books, magazines, or off other web sites unless you own the rights to the photo.

Mustang
History

The American Mustang, is the descendent of the Spanish Horses. This horse is now protected by law as an endangered species. The 1971 Act provided for protection of certain previously established herds of horses and burros. Today, the United States Forest Service administers 37 wild horse or burro territories in several western states. The Mustang shows features, the most noticeable is the range of coat colors. This horse is mainly found in the western USA.
Conformation
Due to the mixed ancestry, there is a lot of variety. The best are sturdily built with strong, clean limbs and feet. (the original Spanish stock was progressively diluted as a wide variety of settlers horses joined and interbred with wild horses, who either became lost or were abandoned)
Height

13.2-15hh

(hh= Hands High, one hand is 4 inches)

Color
Any Solid Color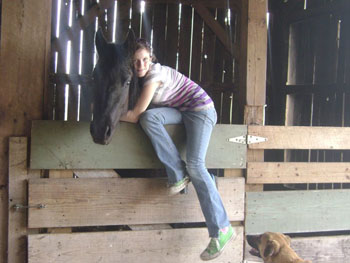 Meet Gypsy Lynn (AKA. Gypsy)
"My papa got her for me when she was a baby. She is a full-blooded mustang but loves it when I ride her. Her dad was sold to someone and her mom had died . My papa talked with the women at the store and he bought her for $25.00! She was a cheap little bit but I love her more than anything. She had a sister who did not make it. I have had her for about 2 years now and she has been the best horse I have ever had. She gets along very well with my other horse, Brave Heart. I have the best horse anyone could ever want! She loves to be riden, mostly a western horse but she does some english. She likes Barrel racing and loves to chase cows. She has been in one jumping contest and got 3rd place. I was very proud."