Toy Horses
Toy horses are a great gift for any hrose lover! They come in different sizes and colors. You can find many acsecories to go with your horse. From saddles, bridles, feed, barns and even a rider! Toy horses allow young kids to simulate what it would be like to have their own horse farm without all the work and mess of a real horse. There are many different brands of horses avalible such as Breyer Horses and Paradise Horses.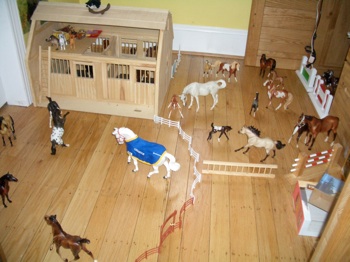 A toy horse barn set up.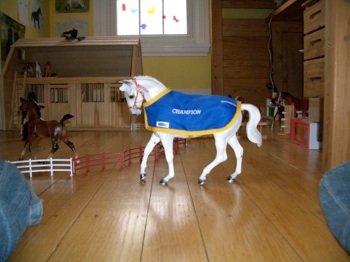 Here is a toy horse from Breyer Horses, its accseseries include a blanket and halter.
Horse Tack & Supplies | Horse Breeds | Horses Page | Ponies Page | Horse Health
Riding Styles | Horseback Riding | Horse Facts | Horse Colors & Markings
Riding History | Common Confomational Defects | Getting Your First Horse